"It is dangerous to speak out – it is 10 times more dangerous not to speak out" – E.J. Gold, March 28, 2017
If it was difficult to recall events from last year (=2016), how much more so as we are going back in time year after year? Makes me think of just starting an events diary and keeping that currant.
So, I have not a lot to say regarding a 2014 summary, in fact, I remember by dates very little, though more and more is coming back as I go back in my mind. In general, over the last 15 years of so, the most readily available are: the gallery years, start of online bardo-training, personal bardo-training with EJ in the gallery and the first few bardo training years, international intensive 2007, the ladder 99 intensive, "you can draw" and other art classes 2008, brane-power 2009 and on, events October 2010 – May, 2011, July 3, 2012, events in the garden starting April 2012, gorebaggtv around 2009, as I go back, more becomes available, but 2014? I can say some things about the chicken garden, I know general things like band practice on Mondays, some visitors – but specifics? So, I will have to resort to images 🙂
January 2014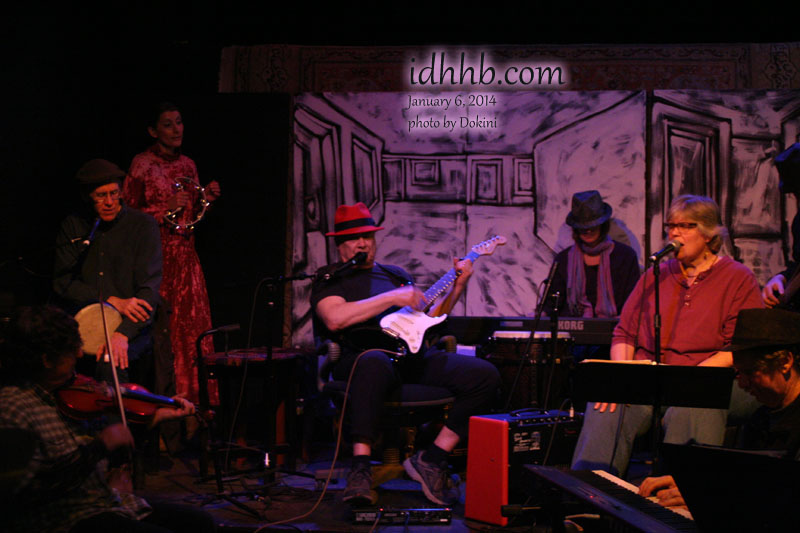 First Band practice of the year (Mondays 4-6 pm pacific time)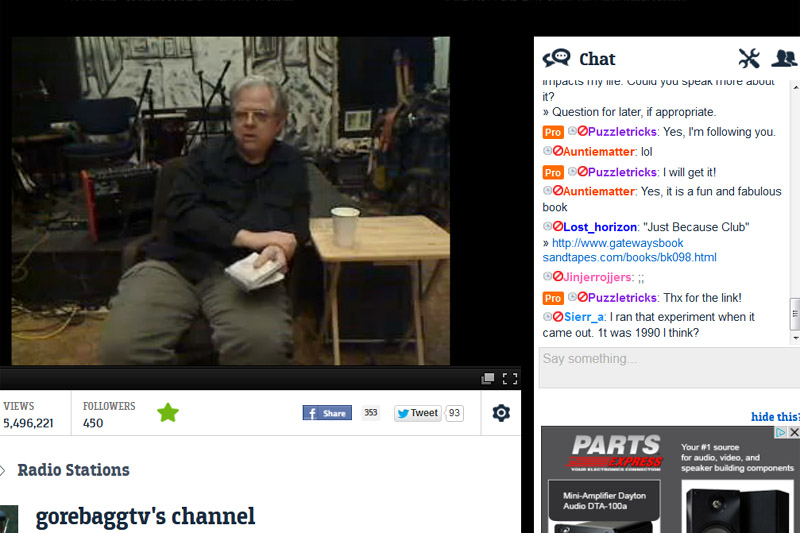 We were still on Justin.tv, here with Thursday night with xxaxx., one of the weekly live online events IDHHB offers for the world-wide community.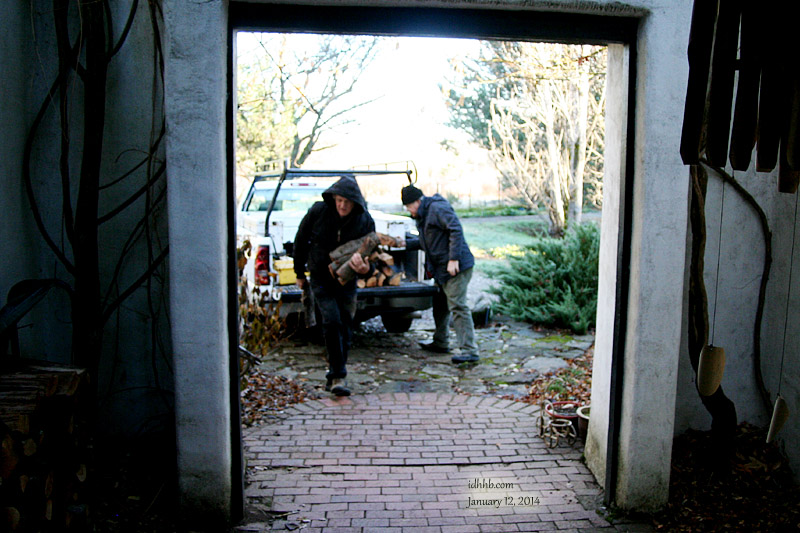 Dick and Claude doing the firewood after the ICW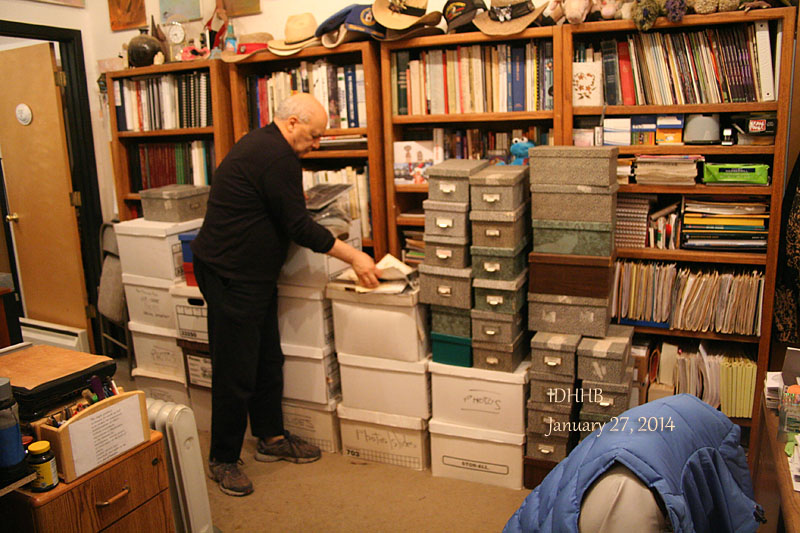 In the office with all the photo archive boxes.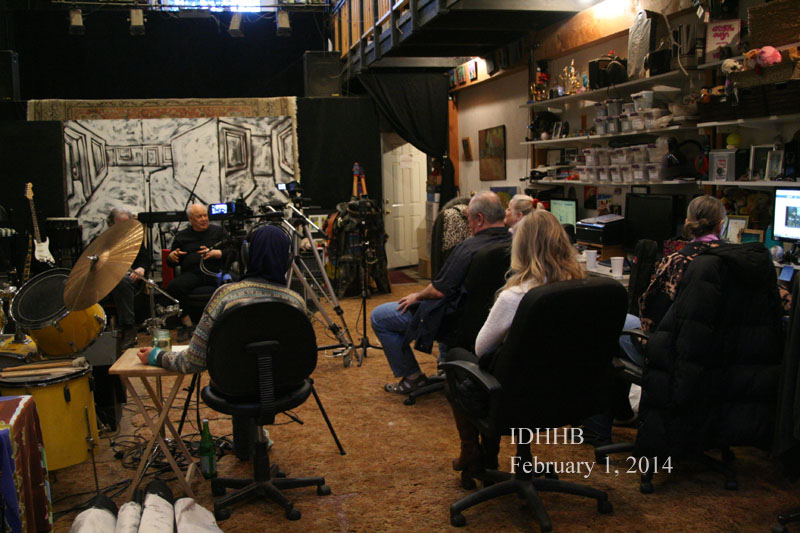 ICW February 1, 2014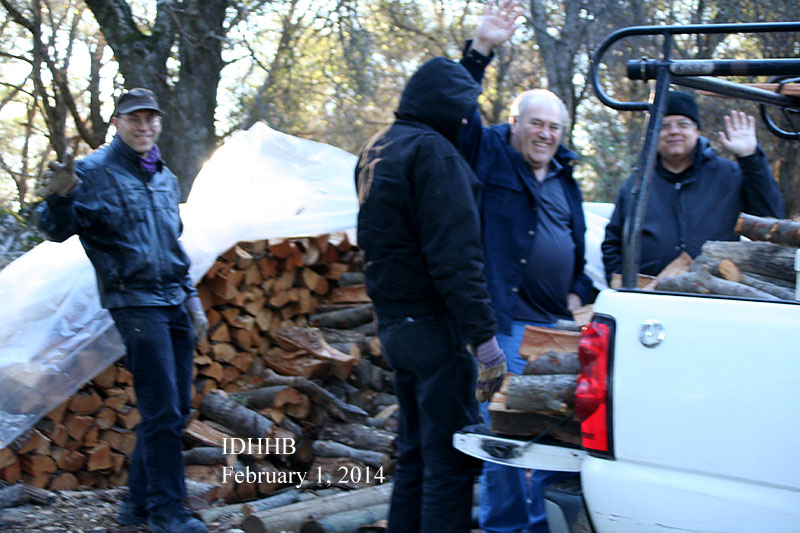 Firewood job with Oz, Dick, Neville and Claude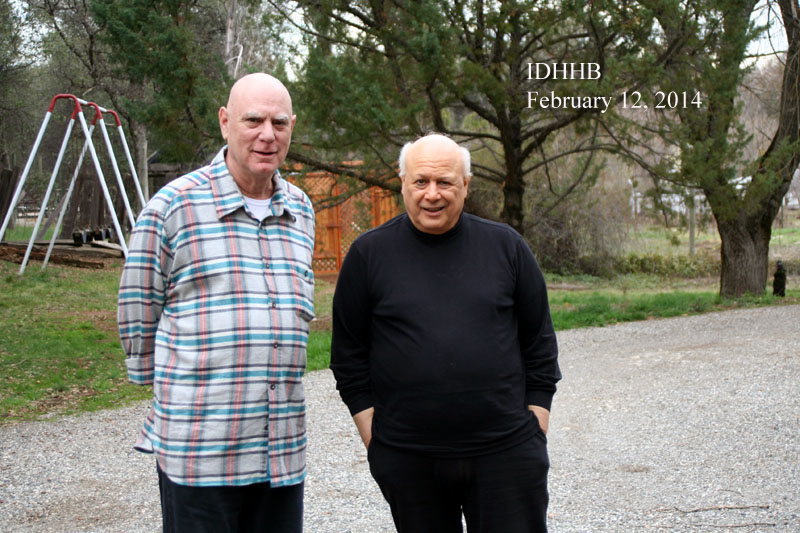 One of the Purna visits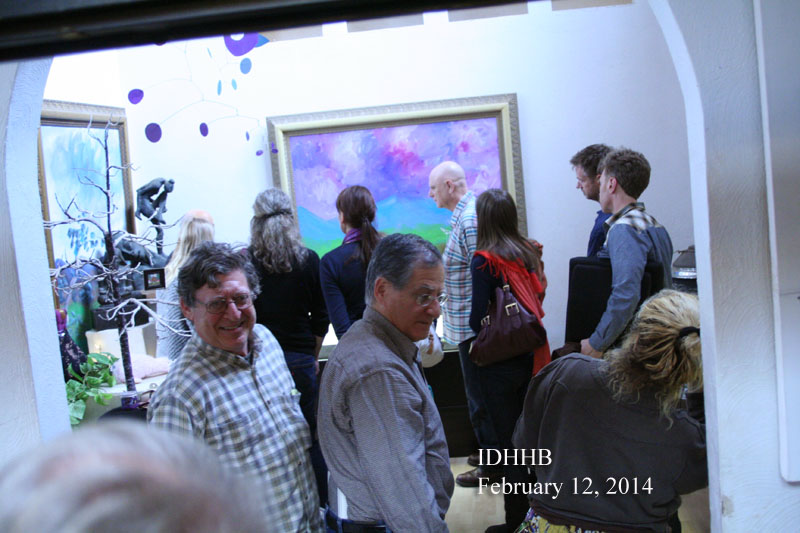 In the atrium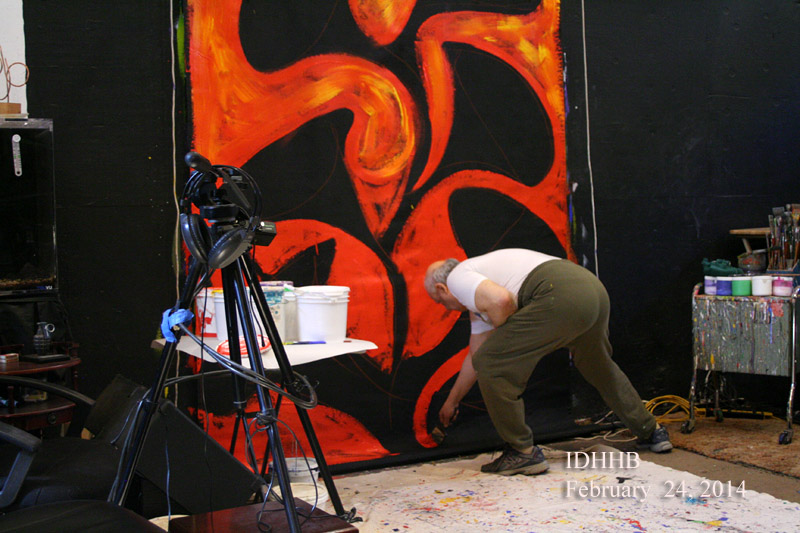 Painting of 7′ x 11′ canvases for the Wynton Marsalis Concert 2014  in Grass Valley.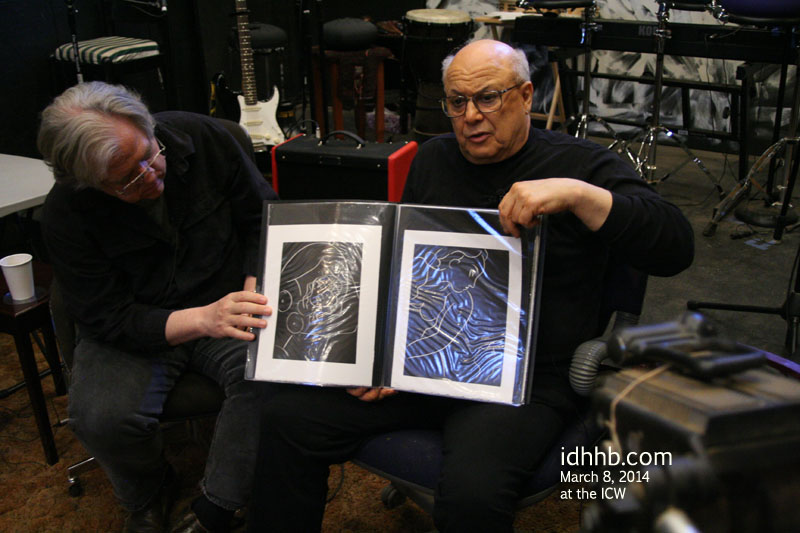 Loading up the van.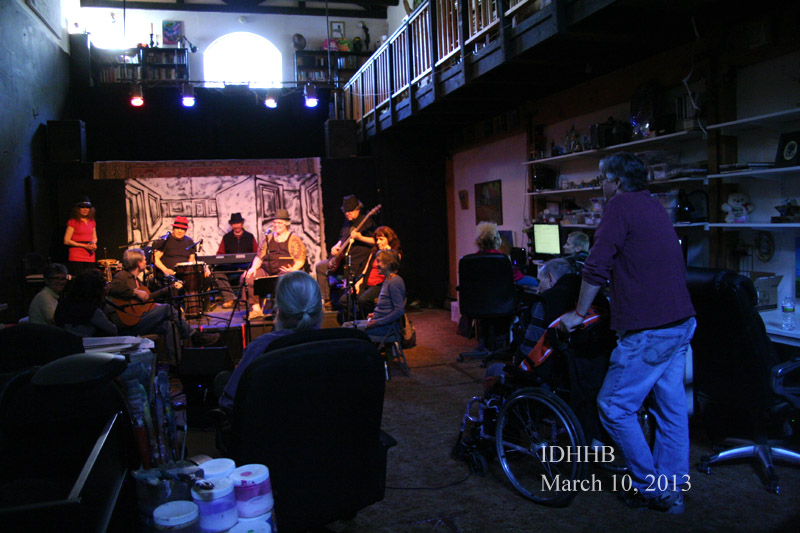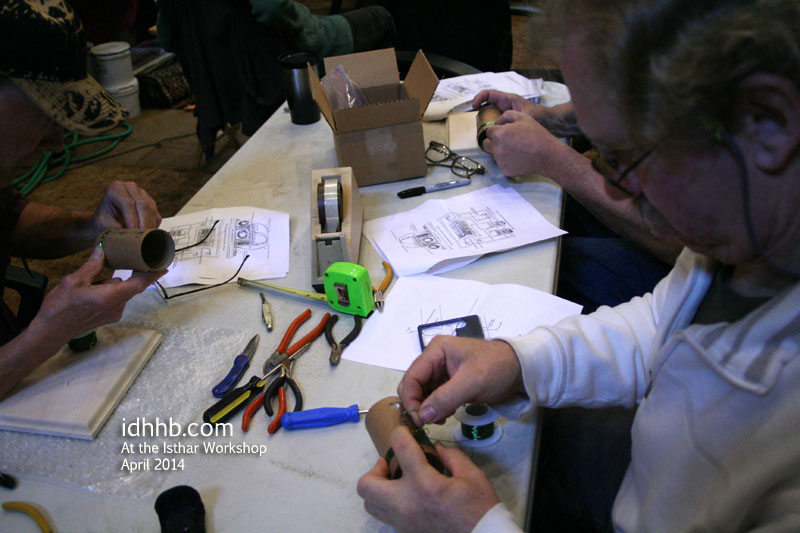 Isthar workshop – building a crystal radio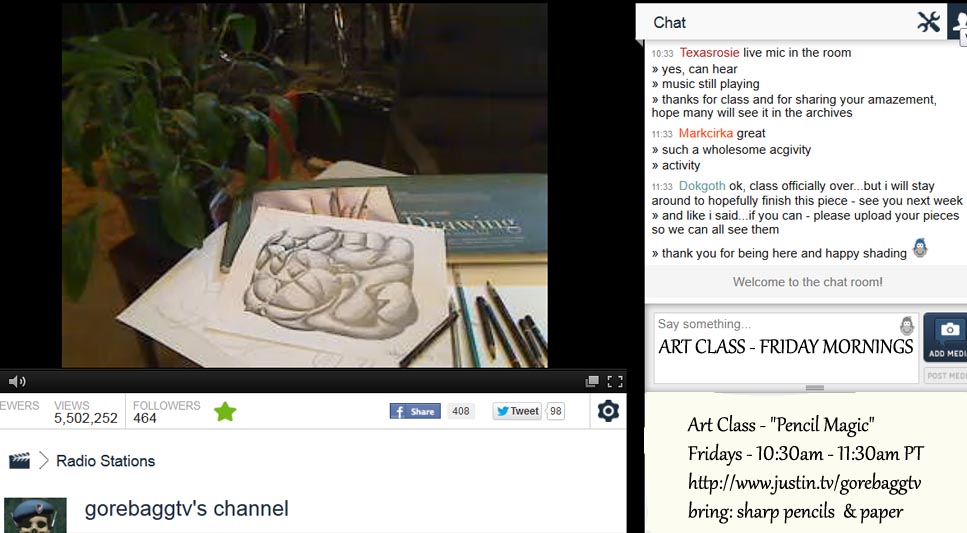 Art Class in town with EJ, online art class with Dok, pencil magic
May 2014
IDHHB – continued ICW both Saturday and Sunday morning with E.J. Gold and Claude, David's Show Wednesday evenings, Pattie-Show Sunday evening. Band practice Monday afternoons. Events in the Online Prosperity Ashram as per schedule. – generally, this is going on every week of the year.
Scott Wellman came to give a sweet magic performance
In May, there also was the Memorial Day workshop. Cooper Jewelry making, making links, rings, necklaces. First equipment testing for gold panning.
June 2014
Increased focus on the gold panning, guitar classes,
Tiffany Woodbury  – at the beginning of her model career.
July 2014
We had a float interview conducted by Glenn and Lee Perry.
More Guitar classes, July 4rth workshop. Magician Scott Wellman returns for another magical magic performance. We are starting to see more of Ken and Toni. Not sure why I have images of bead-heaps, other than – jewelry making is still in full swing. At the end of July, Kay and Don are visiting. Morgan antenna tuner building.
August 2014
A lot of didgeridoo work, healing didge, open channel didge, Gorby's Cafe with vineyard paintings
Convention 2014 starts Aygust 29, Didge, movements  (Kelly and T), Music with Tito, tent out back, Leslie Ann performs, teaching healing didge to group, group photo Monday.
September 2014
Lots of intensity with didge, leslie Ann joins in, Harry visits,  rings for Henrik selection,  Tiffany and Charlie modeling, Dr Paul presentation with Susan.
Tattoo-Fashions lead designers LeslieAnn on left, Amy on right, inspecting full-color temp tats on a printed sale sheet.
How To Trigger & View a Past Life Memory — PLM
October 2014
Community meeting, didge classes, didge work,  guitar, working with crystals, glow in the dark nails. Henrik visit ends – or November..?
Temp Tat photo shoot with the models – Charlie and ..the other one 😉
My Life as a boy – Chapter 1 starts…the blog.
There must be a picture of Leslie Ann and Sam from sometime this year.
November 2014
Art Classes – you can paint, Jim visits, leslie Ann Art class, Music Class, Sunday Music with Jim and Jim. Thanksgiving
December 2014
Captain LeslieAnn of Black Falcon Airways prepares the cabin to host passengers.
Pocket Mission Paks – PLS project.
Gorby continues  with TF2 off and on.
Hello to our Properity Path Friends
More and more people are coming to goddgames as a result of their use of the Prosperity Path Games. Since these games are built with the same engine and resources as the Prosperity Path Orbs that is only natural.
You will be happy to hear that these games have much of the same effect — and work well for bardo-training. The main different between the games found on GODDGames and those in the Prosperity Path is this: these games have plots and monsters added for a bit of challenge and another kind of training.
Enjoy!
More didgeridoo and guitar work., Art classes,
Christmas dinner, Healing Workshop, Birthday celebration.
Visitors – Doug, Viraja, Faye, Fred, Helena, Gail, Gerald, Henrik, Kay, Lily, Lin, Lisa,(beads), Ken, Tiffany -Neville moves on.
more images to come
Regarding CDs and DVDs and books, of course there were new ones in 2014, we'll try to get the info.