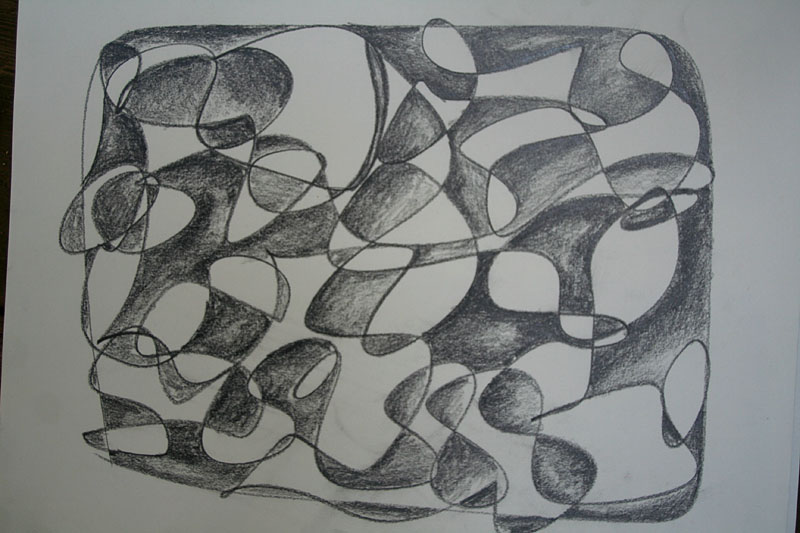 Live on gorebaggtv every Friday
The investigation is: does "doing art" grow your soul?
Fridays Art Hour 1O:30 – 11:30 am PST New on Livestream, we will start with "Pencil Magic" on Friday, August 8, 2014 at 10:30 am PST. We will review the basics of shading, border, scribble and the figure ground exercise. Everything else is pencil mileage and expansion, deepening and exploration – all the way down – or is it up – or in…:) – of these basic tools. Open to all, and especially those who don't consider themselves real artist. This weekly art hour is hosted by Dokgoth. Pencil Magic is inspired by the "Draw Good Now" series by E.J. Gold and a letter Kurt Vonnegut wrote to students – practically imploring them to do art – to grow their soul.
Dok: " It continues to amaze me how somehow the paper – or rather, the form(s) inside it – seem to emerge from the ground and come alive in this process. It really is pencil magic – way beyond mere lines on a piece of paper and even beyond the appearance of 3 dimensional forms – it appears that these forms emerge in collaboration with something deep inside the one holding the pencil. I invite you to take the time and explore with us." All you need that you may not already have is a – preferable very soft – pencil (9 b is best), paper and a pencil sharpener.
Please chick out the homework page and you can review the lessons in the archive as well as the Pencil Magic Basics pages on this site.